Exterior water features have been beloved for centuries as they provide a soothing, beautiful ambiance to any design. If you would like to impress your guests and create a unique entry to your home, we recommend implementing one of these creative water feature driveway designs.
Roundabout Water Feature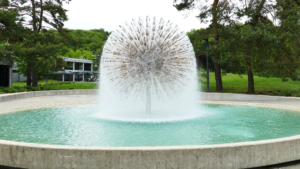 One of our favorite ways to incorporate a water feature into a driveway design is with a roundabout. Driveway roundabouts offer functionality and beauty to any home design, and when you add a water feature to the center, you are kicking up the creativity by another notch.
Depending on the size of your roundabout and the available space in the center will determine the lengths to which you can design. If you have a small roundabout, you will likely be able to fit a small, self-sustaining water fountain with a few bushes surrounding it.
If you have a larger center space, you could fit a multi-tiered fountain with pathing, flowers, and landscape lighting to make a stunning first impression of your home.
Finally, if you have an extensively ample center space, you can even add elevation. You can create a waterfall effect by lifting the space higher than the driveway. As guests drive up, it will look as though they are making their way past a waterfall that your home is hidden behind.
Entry Water Feature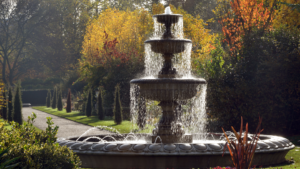 Most homeowners have a driveway that leads directly to the home. Rather than having your water feature in the driveway, as you would with the roundabout, it can be perched at the very end as an entry element.
Most often, you and your guests will end up parking in front of the water feature, so a more prominent water feature will be more impressive. We recommend using a multi-tiered fountain, building a pond, or designing a simple waterfall. Just remember that this water feature should not get your guests or their cars wet.
Dual Display
For a classic aesthetic, you can employ a dual display. At the end of the driveway, as your guests step onto the path that leads to your front door, you can have two water features standing guard on either side of the path. For this, we recommend using tall fountains that match or share an aesthetic element.
Distant Waterfall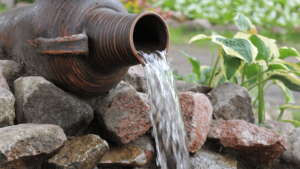 So, having a water feature right next to your driveway doesn't appeal to you? We understand! That is where a distant waterfall comes to play. You can place smaller water features nearby or larger ones somewhere in the distance and still get the auditory benefit of a water feature. The tinkling of running water will soothe guests when they arrive and pique their curiosity as to what lies hidden within the landscaping.
Signature Paving
Would you like to redesign your driveway around your new water feature or simply give your driveway a freshening up? We at Signature Paving are here to aid you in all your driveway needs. Get a free quote by visiting our website today!